UNCLE - A Houghton Mifflin Literary Award Novel about a Jewish summer camp owner who did not till middle age find out he was gay.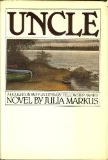 "Julia Markus astonishes with the lightest touch of complex wisdom." Helen Yglesias, NY Times Book Review

"Her vignettes of Camp Rose Lake, lingerie stores and Miami condominiums evoke a world where pride and purpose survive only by virtue of a resilient will. Philip Roth proved that new jersey, summer camp and claustrophobic family life could inspire satire. Whether they could inspire tragedy remained in doubt until Julia Markus..." James Atlas, Time Magazine
---
AMERICAN ROSE - Encompassing the lives of three generations of a Jewish American Family.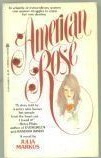 "The Addises are vibrantly alive ...This family leaves its mark upon the reader." Anne Tyler, NY Times Book Review

"Should not be missed." Publisher's Weekly

"One of the most gifted novelists of her generation." Pat Conroy
---
FRIENDS ALONG THE WAY - Love, friendship and self realization in Rome and at home.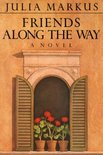 "A deeply engaging story about friendship, a theme that opens up wonderful new angles of vision onto fiction's familiar landscape of passion and the search for self...The most substantial novel to date by Julia Markus, the widely praised author of Uncle and American Rose." Laura Shapiro, Newsweek

"It is a book one wants to keep on reading." Andrea Lee, New York Times Book Review

"Not only are Betsy and most of her friends masterfully described, but the world they live feels genuine, three dimensional...A moving account of a young woman's growing up...A pleasure." Susan Isaacs, The Washington Post World Book
---
A CHANGE OF LUCK - A Literary Guild Selection. Elaine Netherlands absolutely insists on understanding her rocker step daughter. Set against the rock scene in New York on the brink of the 21st Century.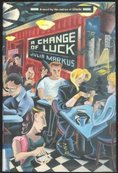 "Markus manages the most extraordinary sense of life unfolding." front page, The Los Angeles Times

"Reading Julia Markus' A Change of Luck is like holding a benign but unreleasable live wire." Reynolds Price

"Wry and engaging. The humor holds and strong writing shines." Kirkus

---